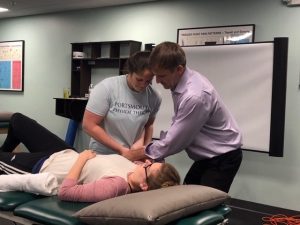 Portsmouth Physical Therapy, PTs continue to enhance their skills by attending an two day immersive extremity manipulation course. Dr Ian Young from the prestigious American Academy of Manipulative Therapy lead the course. The course consisted heavily of advanced differential diagnosis and treatment techniques for the shoulder, knee, elbow, foot and ankle. "The course was intensive and really challenged current concepts in treating extremity related conditions" said Portsmouth PT's Katie Cole.Fellow Pinnacle partner Somersworth Physical Therapy hosted the course and welcomed physical therapist from all over the state  to attend. Cole went on to say, " We enjoyed meeting and learning with other Physical Therapists, I firmly believe it strengthens our knowledge base and that can only benefit our patients! "
Portsmouth PTs 5 person clinical team has amassed over 200 hours of formal continuing education this year alone.That is 40 hours per clinician this year, and there is still one more course in December 2018! To put that in perspective, the state requires only 24 hours every two years. Portsmouth PT continues to stay ahead of the game and the therapists continue to put their time into being the best!
---
Published November 6, 2018 | Posted in Portsmouth PT Blog Posts.